News:

Sheet music is now available online
March 27, 2019 Show at The Back Room in Berkeley
"Sheet Music Available Online"
Sheet music for several of Paul's songs is now available at sheetmusicplus.com.
Stay tuned for additional sheet music releases,
"The Music of Paul James Frantz"
On Wednesday March 27, at 8pm, The Music of Paul James Frantz was presented at The Back Room in Berkeley California. Performers Carrie Madsen, Paul Araquistain, Jackie De Muro, and Don Martin joined Paul and pianist Stephanie Lynne Smith to showcase Paul's songs.
Show Me Yours
Sheelagh Murphy sang Come On In at San Francisco's Alcove Theater in their April 2013 production, Show Me Yours - Songs of Innocence and Experience.
Paul James Frantz Songbook
A second printing of the songbook is in!
The book contains piano/vocal (solo) arrangements of the following songs:

At the Pearly Gate
Come On, Santa (Decorate My Tree)
Everything's Going to Be All Right
I Want to Sit Where Sartre Sat
The Ice in My Mojito
If People Like Me Marry
If Wisdom Comes With Age
Make Like a Prince
Poles Apart
Taking Charge of My Dream
Trolley to Nowhere
You Don't Know Nothin' About It
Your Call's Important To Us
Make Like a Prince CD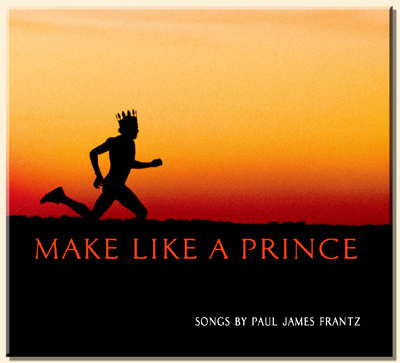 Make Like a Prince, a CD of original songs, is available at CDBaby, iTunes, Napster and the Amazon MP3 Store.
To listen to song samples and to learn more about the CD, Click Here.
Lyrics and several free mp3 downloads are available on the Songs page.